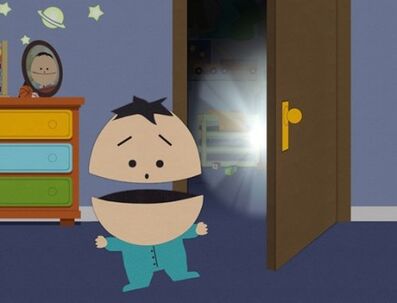 Random notes
Edit
Ike is haunted by the Ghosts of dead celebrities.
In the episode "Miss Teacher Bangs a Boy" there was no trace of a closet in Ike's room. It's possible that that Kyle's house was destroyed in "Pandemic" or "Pandemic 2: The Startling" by guinea pigs forcing them to rebuild. This could be the reason because they decided to add in the closet. Of course, the houses in South Park are constantly being upgraded over time (e.g. Stan Marsh's kitchen is more modern in Season 14 than it was in Season 1).
When Billy Mays is trying to sell his products in purgatory he's seated next to Kennedy and Richardson, and behind some unknown people with no lines. At the end when they land in hell he's seated next to someone else. At the part where all the celebrities yell he is not seen.
In the scene where Cartman shows them Billy Mays selling a product for cleaning blood stains out of you underwear they startout in Cartman's house when they go to the T.V. However when they go back to see the boys reaction to the commerical they are in Kyle's house.
(In a deleted scene, viewable on the Season 13 DVD and Blu-ray, where the boys and Michael Jackson were in Forest Lawn Glendale Cemetery, the tombstone actually shows Michael Jackson died on July 25th, which Michael Jackson really died on June 25th.)
The male doctor says that he'll let Doctor Phillips take care of it, but the woman's tag says Dr. Tangina.