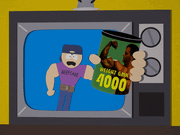 Weight Gain 4000 is the second episode of South Park.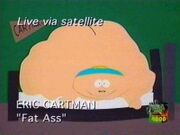 Mr Garrison's eyes come out his glasses multiple times when he is speaking to the class,
When Kyle is talking to Chef his mouth dissappears.
When Mr. Garrison recalls the talent show, his mouth dissappears.
Kenny has no gloves in the opening scene.
Chef calls The Mayor Mr. Mayor.
Mr. Garrison's gun keeps changing from wood to metal.
The Beefcake guy's hand comes out the scene.
Mr. Garrison's wrinkles dissappear when he asks Mr. Hat why he was looking at him like that.